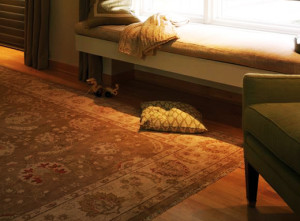 Persian Rugs, Oriental Rugs, Runners
At Value Blinds & Heirloom Draperies, we carry a wide variety of area rug styles from the industry's leading manufacturers. Styles such as Persian rugs, oriental rugs, and runners all have their unique characteristics. Rugs for your home also come in a variety of quality grades, shapes, and sizes that should be considered carefully based on the function you need your area rug to serve. Area rugs are both functional and stylish. Popular uses of decorative rugs include providing a stylish transition from one room to the next or dividing an open area into separate functional spaces. Area rugs provide comfort and noise reduction to areas of a room covered in hardwood or tile flooring.
Area Rugs in DC, Fairfax, Arlington Areas
As your local window covering and home décor company, Value Blinds & Heirloom Designs offers personalized service, quality products, and expert consultation. With a Hunter Douglas Gallery showroom in Ashburn, we serve the greater Washington DC area including Fairfax, Arlington, and Haymarket.
Contact us today to schedule a consultation.