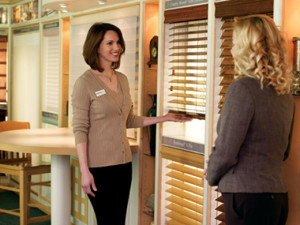 Qualified Design Professionals
Our sales and design staff are EDUCATED INTERIOR PROFESSIONALS, each with a minimum of 5 years' experience in window treatments and interiors. NO PART TIME SALES PEOPLE! You'll get qualified advice, right on the money. This is also true of our installation/technical staff.
Free In Home Consultation
You are welcome to visit our showroom, however, an IN-HOME CONSULTATION is absolutely the ONLY way to determine the best treatment to meet your window needs. We will show you each different type of treatment at the window. This will allow us to consider sunlight and privacy issues at each window plus decorative concerns such as color and style in surrounding spaces.
Only Quality Products
We are a large 'HUNTER DOUGLAS GALLERY' dealer! We can give a guarantee on Hunter Douglas products that no other dealer can. We also offer OVER 50 ADDITIONAL QUALITY MANUFACTURERS. If Hunter Douglas has the best products to meet your needs then we are glad to offer it, however, when they don't, we can recommend others because we sell everything. No axe to grind! ALL of our products carry a limited LIFE TIME WARRANTY.
Every Type of Product for Your Windows and Home
Of course, we offer every type of BLIND, SHADE, AND SHUTTER, but unlike "Blind & Shade Only" stores, we also offer EVERY MANNER OF SHEER, DRAPE, AND FABRIC SHADE. So if these are more suitable, we're free to recommend them. In addition, we offer PAINT, WALL COVERINGS, TOP TREATMENTS, RUGS, AND FURNISHINGS. So when choosing blinds & shades, our designers can at least coordinate them with future purchases of your current environment.
Quality Customer Service
WE TAKE CARE OF IT ALL from helping you make the right decisions to specifying:
PRODUCT
COLOR
MEASURING
ORDERING
DELIVERING
PROFESSIONAL INSTALLATION
We also offer a FULL TIME CUSTOMER SERVICE office so when service is needed upon installation or any time after, your needs are addressed on the same business day — NO DELAY. WE SERVICE EVERYTHING WE SELL.
Price and Value
In addition to our PROFESSIONAL DESIGN ADVICE, HIGH END PRODUCT, and FULL SERVICE, our prices on exact products are less than the big "Blind Only" stores and competitive with or less than the "Big Box" hardware stores. In fact, we offer a PRICE GUARANTEE. Ask your design professional for details. —That's Value—
Serving Washington DC & Northern Virginia
The professionals at Value Blinds & Heirloom Designs are committed to bringing you the latest styles, current trends, and innovative technologies. We offer only the highest quality blinds, shades, shutters, and home accessories. With a showroom in Ashburn, we proudly serve the greater DC area, including Loudoun County, Fairfax County, Montgomery County, and Prince William County.
Contact us today to schedule a consultation.